Symptom: Notification messages are not showing up on the provider's side once the provider receives new telehealth visit requests.

Possible Cause: The ability to display notification from the Clinician Station website was not enabled in the Chrome browser, and might have been blocked. Possibly, this ability was blocked by the provider once the browser displayed a message asking to enable this.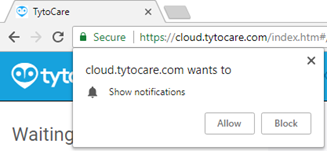 Suggested Solution: In the Chrome browser's settings, please go to the notifications (chrome://settings/content/notifications) and Allow TytoCare's website from sending notifications (Please see screenshot below).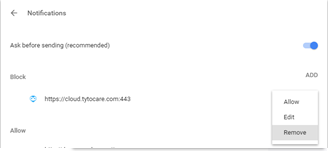 If you are unable to locate https://cloud.tytocare.com from the list, please make sure that https://cloud.tytocare.com:443 is added to the list of websites that are allowed to send notifications.