This knowledge article will provide steps to pair the TytoCare App and Device
TytoCare App pairing process:

To watch this on YouTube just press CTRL on your keyboard and click on the YouTube logo on the lower right part of the window at the same time.
Pair the TytoApp to your Tyto Device. For your Tyto Device to communicate with the TytoApp, you need to pair it. You will use your Wi-Fi Internet whenever using the TytoApp, so please make sure the smartphone or tablet you are using is connected to your Wi-Fi and that you are in a location where the signal is strong (e.g., close to the router).
Please have your Wi-Fi password available as you will need it to complete the pairing process.
It is always preferred that you use your Wi-Fi Internet connection when using Tyto, but if you need a backup or if you are traveling, you may use your smartphone as a hotspot Internet connection.
Step 1: The Device pairing screen will be displayed on the TytoApp. Note: If using an integrated enterprise solution, the pairing process could be different (i.e. using another App like MyChart). Enter your home Wi-Fi password and press Next (Figure 1). If this screen is not displayed automatically, press the red pairing icon , located in the upper right corner of the App and the Device pairing screen will be displayed
Figure 1 - Note your screen may not look like the below screen based on your Tyto App software versions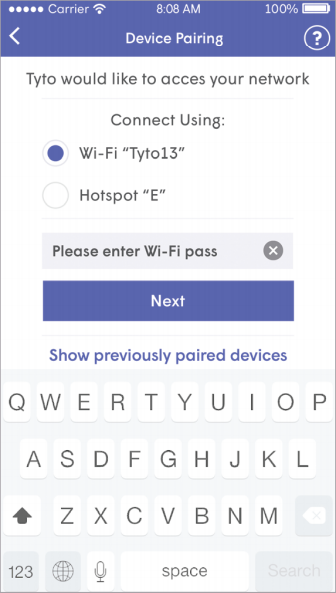 Step 2: Select your network (SSID) to connect. Note: G1 devices can only connect to 2.4 GHz networks
Step 3: Turn on your Tyto Device using the on/off button on top of the Device. Press I have the App and Scan Barcode on the Device.
Step 4: On the TytoApp, it will produce a QR code. Use the camera on the Tyto Device to scan the barcode on the TytoApp as shown below (figure 2).
Figure 2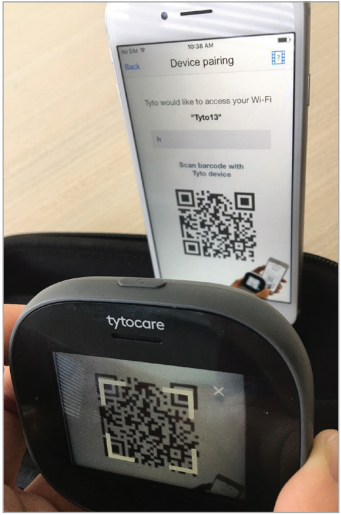 You should now see a green pairing status

in the upper right corner of the TytoApp on your iPhone or iPad. This indicates that the TytoApp is successfully paired. On your Tyto Device screen you should see a connected icon

in the upper right corner of the Tyto Device screen. You are now ready to use TytoPro.
If pairing is unsuccessful, make sure the Wi-Fi password is correct as it is case sensitive and scan the barcode again. If the barcode screen on the Tyto Device does not appear automatically, swipe down on the screen and choose
Pairing
.