This knowledge article will provide you with the steps to unbox your TytoCare Device and the different parts included in the box

To watch this on YouTube just press CTRL on your keyboard and click on the YouTube logo on the lower right part of the window at the same time.
What's in the TytoCare Box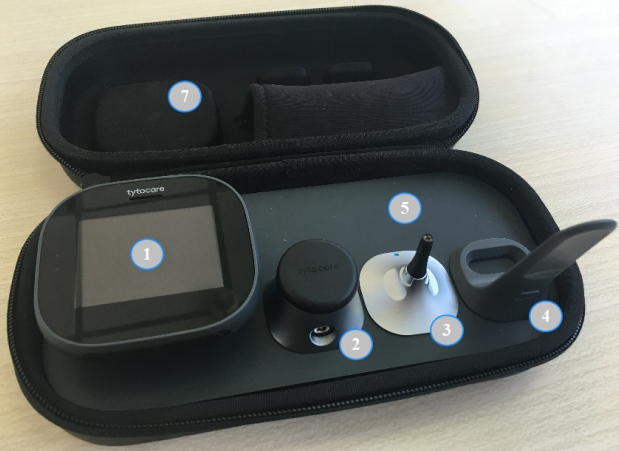 TytoCare Device - Includes an LCD touch screen, main processing unit, rechargeable battery, camera, illumination, sensors, and connector which is used to mount the add-on devices, and which is held when taking an exam.
Stethoscope - Add-on for heart and lungs auscultations and measurement of heart rate.
Otoscope - Add-on for ears exam.
Tongue Depressor - Optional tool for throat exam, including a reusable holder and blades. Blades are provided in the box in 2 sizes (not shown in the picture):

2 adult tongue depressor blades
2 child tongue depressor blades

Tray - Holder for the device and add-ons. To be used during examinations.
Disposables (not shown in picture):

5 adult disposable ear specula
5 child disposable ear specula

Carrying Case - Stores and keeps the entire TytoHome™ product, including the TytoCare device, add-ons, and disposables. Note there is a designated place on the case top to be used as a mobile stand, to hold a mobile device during examinations and online virtual visits.
Charging Cable - Used to charge the TytoCare device, using the USB port on your computer or a UL-certified USB wall charger. You may find this cable inside the smaller white box inside your TytoCare Medical Exam Kit packaging along with the disposables.
Note:
The device comes pre-charged. If it does not power on, connect the charging cable to Tyto to charge it. Remove the rubber band and connect the charging cable to the charging outlet.
You cannot perform exams during the charging process. It is recommended to fully charge the battery before use.
Charging is indicated by a light on the front of the device depending on its version.

G1: Orange - charging | Green - charged
G2: Purple - charging | Blue - charged

Store the device charged, and re-charge it once every 3 months. Storing the device when the battery is drained may shorten battery life.
For G1 devices, be sure to connect the charging cable to the charging outlet (see image below), not to the headphones outlet, which is nearby and larger.

For G2 devices, there should see a USB-C port present at the bottom of the device intended for charging.