This knowledge article will provide steps how to See a Clinician Online
Please note: If you are associated with a particular provider or healthcare organization. Please contact the office directly for guidance how to schedule a TytoHome telehealth visit with your provider

To watch this on YouTube just press CTRL on your keyboard and click on the YouTube logo on the lower right part of the window at the same time.
See a Clinician Online
Step 1: Log into the TytoApp on your smartphone or tablet.
Step 2: Turn on your Tyto Device by pressing the on/off button at the top of the Device.
Step 3: Make sure that the TytoApp is paired to your Tyto Device. Pairing should happen automatically if you have already paired the TytoApp to your Tyto Device during the initial setup process, and you are using the same Wi-Fi connection. However, if it does not pair automatically, and you see the red pairing icon

, please follow the directions for Pairing in the Pairing Procedure, or watch the pairing video found by pressing the

button in the upper right corner of the TytoApp.
Step 4: Choose which patient you want to be examined.
Step 5: Choose the type of telehealth visit you would like to perform – choose See a Clinician Online (See image below).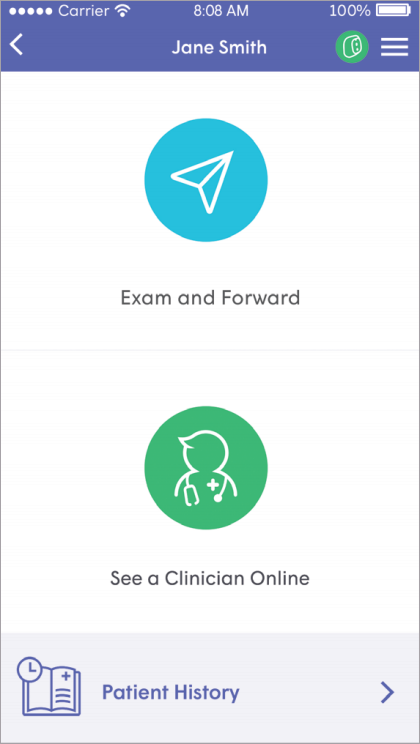 Step 6: Select your preferred clinician to conduct the telehealth exam. You may choose a doctor who is available, busy or on call:
Available: The clinician is logged in and is available immediately for a visit
Busy: The clinician is logged in, currently busy with a patient, but will respond as soon as he/she is available
On Call: The clinician is NOT logged in but is on call, so he/she can still accept the visit request.
Step 7: Add the patient's symptoms and complete the short questionnaire to let the clinician know your main complaints.
Step 8: Wait until the clinician starts the online visit. Once the clinician starts the visit, you'll be asked to join. Press Join to start the video conference with the clinician.
Step 9: The video call with the clinician starts. During the online visit, the clinician controls your Device remotely and will guide you through the examinations.
When the clinician performs exams, you will need to connect the correct Adaptors to the Device depending on which exams he or she is performing.
Stethoscope - for a heart, lung, or heart rate exam
Otoscope - for an ear exam
Tongue Depressor – may be needed for throat exam
For other exams, such as temperature or skin, no Adaptor is required
Step 10: When the clinician ends the online visit, he or she may send you the notes which can be found in your Patient's History along with your examination files (See image below)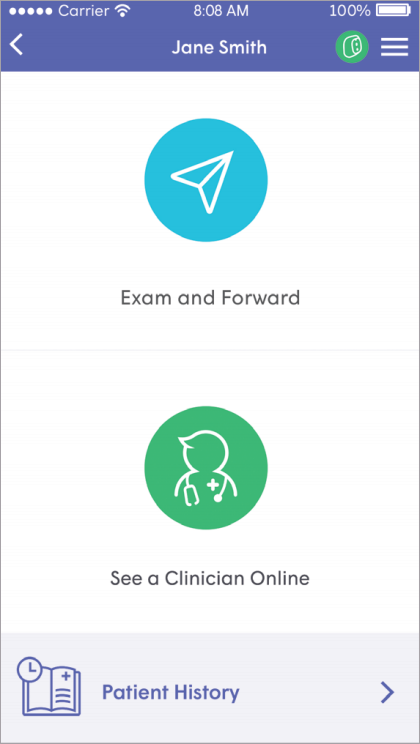 Step 11: When the visit is complete, close the application and turn off your Device by swiping down on the Tyto Device screen and choosing Shutdown (See image below).